Reference –  Evaporator processes

Wenrui provides two types of Evaporating process solutions,

Tubular Falling Film Evaporation Process and Plate Type Falling Film Evaporation Process. 
REFERENCE -Plate Type Falling Film Evaporator system for HSPP BC Canada,capacity is 400t/h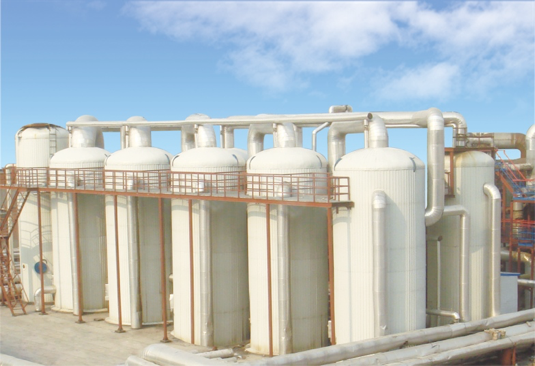 Picture: HSPP BC Canada,capacity is 400t/h
It is suitable for single effect, multiple effect, and secondary steam compression (MVR) design, which is featured by high exchange efficiency, low energy consumption and less scaling, widely applicable to paper, grains, chemical and sugar industries, etc.
REFERENCE -Tubular Falling Film Evaporator plant – Jingui Pulp & Paper, China 850 t/h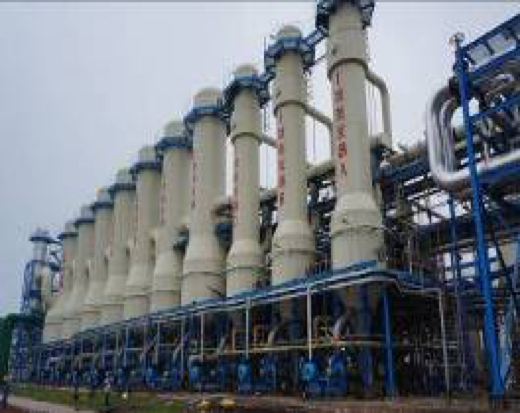 Picture: Jingui Pulp & Paper, China 850 t/h
Internal recirculation pipes provide pre-heating zone and reduce invest, installation & maintenance fees, and save heat loss;
By adopting Re-circulate pumps, then the risk of expansion joint damage leading to black liquor leaking can be eliminated;
Top black liquor distribution system guarantees black liquor going through all tubes evenly and so as to get the film balance;
Heating chest separates into clean and cloudy zone. Its unique structure design makes the heating chest running like a stripper. Condensate collected in the clean zone has some little COD, while the COD is high collected in the cloudy zone, which means main part of COD has been concentrated into small amount of condensates;
Air chest equipped with level type fog & foam separators, and solids contained the steam coming from this separator is less than 10 ppm;
By adopting crystallization technologies, scaling conditions are significantly reduces. And from effect I 80% DS high consistency black liquor can be approached.
REFERENCE – Tubular Falling Film Evaporator plant IKPP mill Indonesia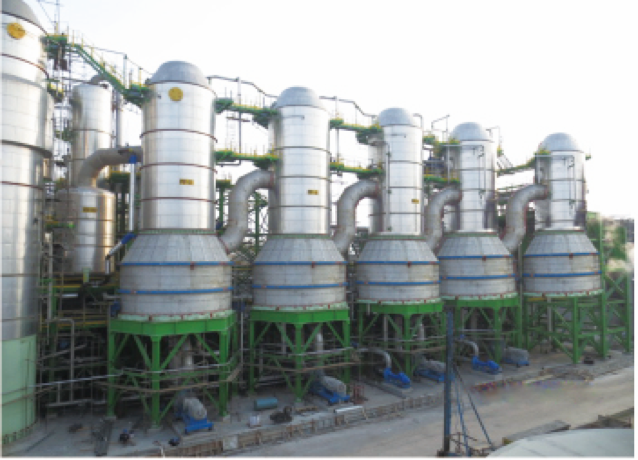 Picture: 1050t/h  IKPP Mill Indonesia
By adopting crystal evaporation technology, our evaporation system is high in efficiency, low scaling rate, less bubbles, and no blocks, long running period and high consistency black liquor coming from effects, etc. Capable of design, calculation, manufacturing and integration for VE system.